Posted by Claire on Feb 13th 2020
Get 25% off and FREE SHIPPING from factory floor all the way to your door! This is our biggest sale of the year. Orders must be received by Feb 28, 2020.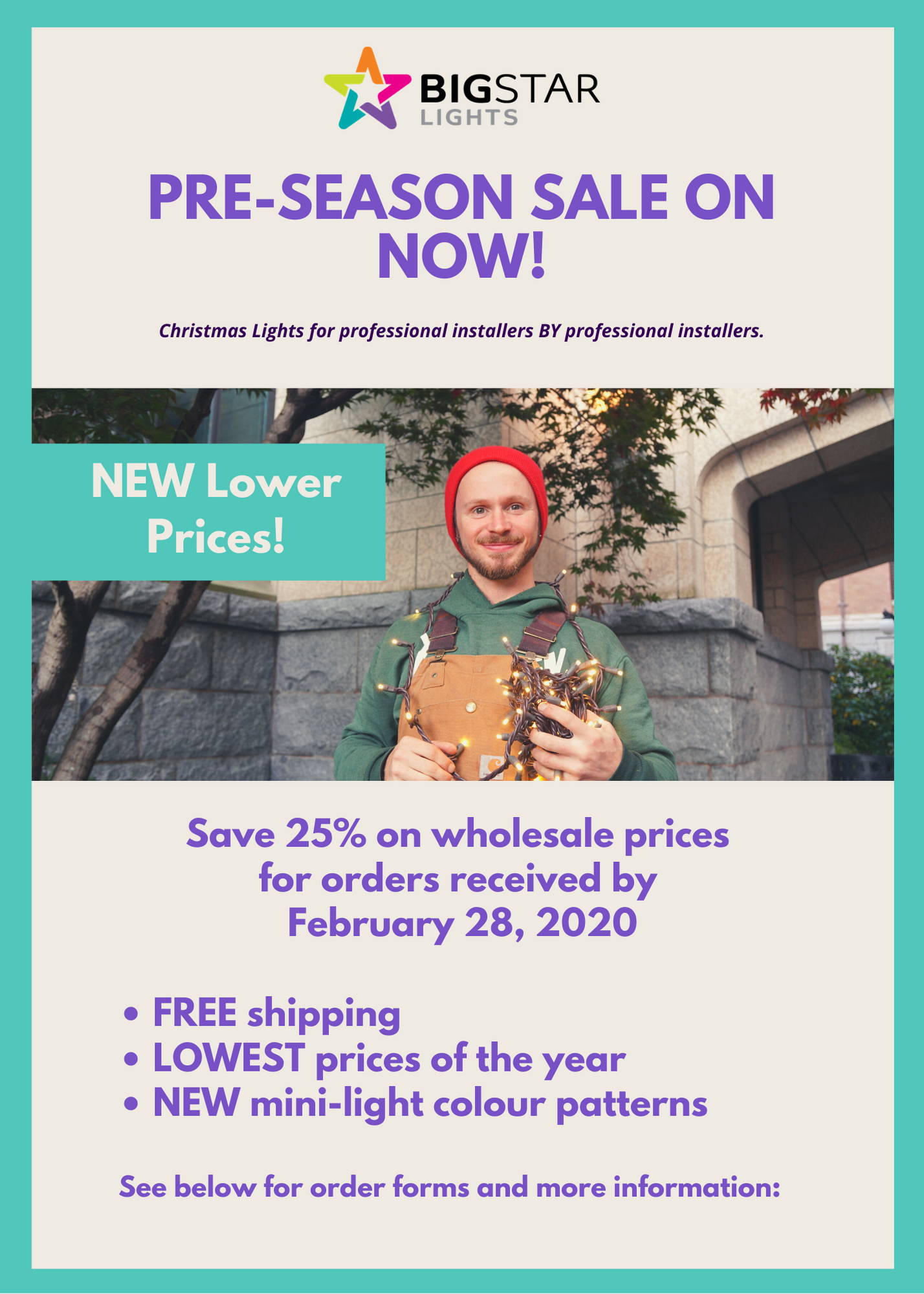 Big Star Lights has always been committed to bringing the best quality Christmas Lights at highly competitive prices. Once again we are offering a pre-season sale where you can pre-order your lights for the 2020 season at the lowest prices of the year.

As experienced installers ourselves, we hate service calls as much as you do especially in the frenzy that leads up to Christmas. Our lights are guaranteed to reduce the number of service calls without making you pay a premium for them.

Here's how to save:
Step 1: Open the link below, "Make a Copy" if using Google Sheets (preferable), or download as Excel or PDF file, and complete the pre-season order form, which also lists pricing:
Canadian Customers
USA Customers

Step 2: Submit order form to sales@bigstarlights.com and pay 30% deposit by February 28, 2020

Step 3: Pay 2nd deposit of 30% by July 2, 2020

Step 4: Pay remaining 40% and taxes by September 1, 2020

You'll notice that most pricing has gone down from last year including significant reductions in retrofit bulbs and socket-wire.

Delivery or pick up will be in early September 2020. Ground shipping is included in the price. Payment can be made by cheque, wire transfer, or e-transfer (Canada only). We also accept credit cards for a 3% fee (this fee only applies to pre-season orders, NOT regular orders made on our website). Please read the terms on the order form for more information.

If there's a product you want but don't see, let us know and we'll source it out for you! Custom products available upon request.

For a detailed list of products, descriptions, available colours, etc. please visit our website, e-mail us at sales@bigstarlights.com, or call us at 1-888-444-4081.